Comparing Square vs PayPal, Square offers better-integrated payment tools than PayPal, but PayPal pulls ahead in ecommerce payments, and online invoicing features are tied. PayPal's 2.7% per-swipe fee is lower than Square's 2.75% per-swipe fee. However, most users think Square's free point-of-sale (POS) system and business management system makes its slightly higher fee worthwhile.
Overall, we consider Square the better overall option here. It has low flat-rate processing fees and no startup, monthly, or cancellation fees. You also get free POS software for your business and a free mobile credit card reader when you sign up. Start a free account.
POS & Mobile: 2.75%
Online: 2.9% + 30 cents
Virtual terminal: 3.5% + 15 cents
All rates are per transaction
Mobile: 2.7%
Online: 2.9% + 30 cents
Virtual terminal: 3.5% + 15 cents (requires $30/month account)
All rates are per transaction
We recommend Square for businesses and individual sellers who want a low-cost way to sell anywhere, accept all types of payments, and manage everything in a centralized POS system.
This includes:
With your free Square account, you get access to all payment options plus a full suite of inventory, sales, customer, and employee management tools. You even get a free magstripe credit card reader upon signup. If you're looking for a payment solution that lets you start with zero cost, supports all types of sales, and helps you manage your entire business, Square is the best solution for you.
With Square, your only costs are your credit card processing fees. These fees are competitive with PayPal and can be even cheaper in some instances. However, what sets Square ahead of PayPal is its feature-packed POS software that lets you manage every aspect of your business: inventory, sales, employees, customers, and more―all for free.
When to Use PayPal
PayPal is an online payments powerhouse. If your focus is running an online store, you should seriously consider using PayPal as your payment provider. Online buyers love having PayPal as a payment option, and PayPal's secure system integrates with virtually all ecommerce platforms.
You can do plenty with PayPal beyond online selling, too. PayPal Here is a mobile payments service that lets you accept payments using mobile devices and even set up in-store checkout registers with approved third-party hardware. PayPal also offers virtual terminal and recurring payment options, but both come with monthly costs, unlike Square, which provides them for free.
If you sell online and use your ecommerce platform or an order management system to manage inventory, sales, and customers, PayPal's POS won't matter to you. However, if you want to tie together brick-and-mortar, online, mobile, and other types of sales under one roof, Square's free POS beats PayPal's hands down.
When to Use an Alternative
If you're looking for an alternative to Square and PayPal, check out Payment Depot. It's a merchant service provider that provides payment processing at extremely competitive rates using a membership pricing model.
Payment Depot's pricing is ideal for businesses that process more than $20,000 per month. You just pay a flat monthly fee based on the size of your business plus the direct interchange fees. No markups, hidden fees, cancellation fees, or contracts. Unlike most merchant account providers, pricing is the same for online and in-person payments, and both types of payments are included with every membership. Read our Payment Depot user reviews to learn more.
How We Evaluated Square vs PayPal
At first glance, Square and PayPal are very similar. Differences become apparent when you consider the many ways that today's businesses sell. Some businesses sell primarily online while others sell everywhere; in-store, via mobile card readers, and online.
Based on the many sales scenarios today's small businesses face, we evaluated Square vs PayPal using the following criteria:
Businesses that primarily sell online can benefit from PayPal's near-universal ecommerce integrations. Sellers that want to sell everywhere, including in-store, via mobile card readers, and online, will appreciate the power of Square's all-in-one sales, payment, and business management system. For most startups and small businesses, Square is our recommended solution.
Square vs PayPal Pricing & Features
Next, this review takes a closer look at how Square and PayPal compare. To give you a better sense of which option is best for you, features and costs for both providers are examined based on specific sales scenarios.
Square: Best for Mobile Credit Card Processing
Square tops PayPal in mobile payment processing for several reasons. PayPal's mobile features can't match Square's robust mobile POS. Square delivers a full range of sales, inventory, customer, employee, and business management features, unlike PayPal's rather basic item lists and payment tools. Square also operates in an offline mode to run payments without connection, unlike PayPal.
Aside from that, Square and PayPal are quite similar in mobile processing. Both let you accept payments using mobile devices like smartphones or tablets, and provide reliable, low-cost card readers. Their mobile payment processing fees are nearly identical as you can see below.
Square vs PayPal: Mobile Processing Fees & Hardware Costs
Mobile payments & In-store POS sales
3.5% + 15 cents per transaction
Accepts more secure chip card and e-wallet payments
Free, but valued at $24.99
Both Square and PayPal offer many of the same mobile selling features. These include: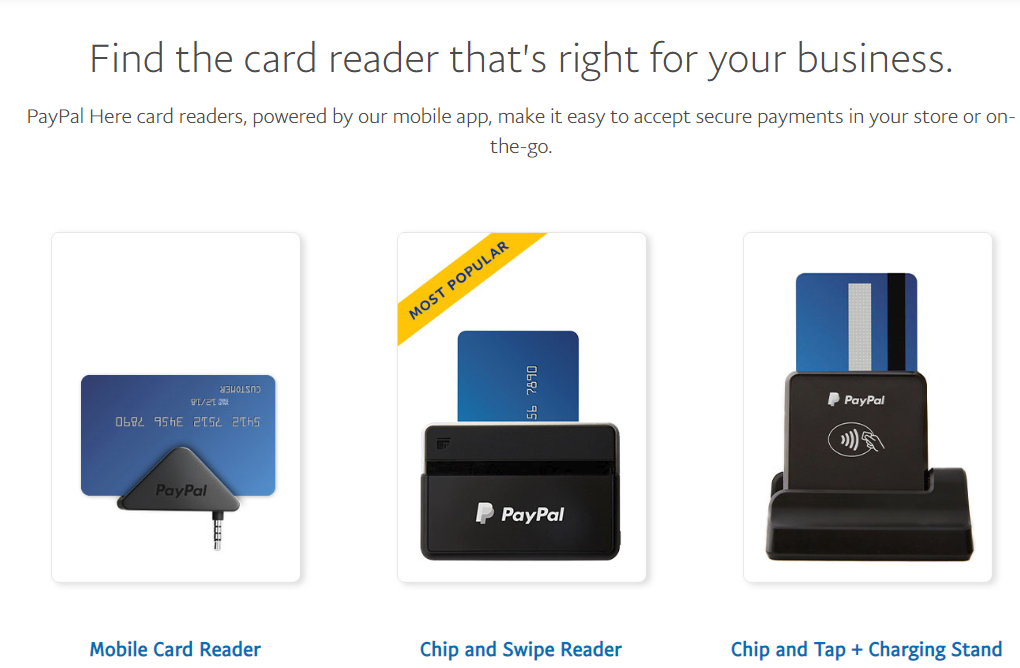 Square's mobile sales features top PayPal in three key areas:
The PayPal Here mobile POS offers something that Square can't top―buyers can pay using their PayPal account. That may not be a big deal for some sellers, but if you're leaning toward PayPal for other reasons, it's a nice plus.
Square: Best for POS Payment Processing & Store Operations
Square soundly beats PayPal for managing in-store sales. Square's major brick-and-mortar strength is it's free, and quite robust, POS software. It delivers an array of business management tools geared to help retailers, dining establishments, service providers, and others run efficient, profitable day-to-day operations. Plus, it offers a range of sleek in-store checkout registers suited to any sales need and budget.
PayPal is moving into the in-store sales arena and offers iPad-based registers, but its POS system has a long way to go. For managing in-store sales, Square's full suite of inventory, sales, employee, and customer management tools beats PayPal here, period. Below is a chart that shows how PayPal vs Square stack up in terms of POS hardware and related fees:
Square vs PayPal: Hardware Costs & In-store Processing Fees
$199 without iPad
$528 with iPad
(one-time purchase)
Includes card reader, dock,
and USB hub for adding a
printer or cash drawer
In-store POS fees: 2.75%
Keyed-in payment
Connects to peripherals like
card readers, cash drawers, and
printers; sold separately
In-store POS fees: 2.7%
Keyed-in payment
$999 or $49/month for
shopper-facing display;
card processing rates
$399 or $37/month for
Accept chip, swipe, and tap
payments, record cash and check
payments, and print receipts
card processing rates are 2.6% +
10 cents per sale
PayPal Here Chip and Tap
Accept swipe, chip, and tap
payments and contactless
Payments like Apple Pay
and Google Pay
Square vs PayPal: POS Sales & Operations Management Features
If you run a retail store, Square's free POS software puts a full assortment of management tools at your fingertips. PayPal Here provides some POS management features, but they are limited by comparison.
One thing to note is that PayPal Here also accepts PayPal payments from in-store customers. This can be a nice plus but isn't a game-changing feature for most retailers.
Here's a side-by-side look at Square vs PayPal for POS features that most brick-and-mortar sellers need.
Square vs PayPal: POS & Operations Management Features
N/A
PayPal: Best for Online & Ecommerce Payment Processing
PayPal tops Square for online payments with seamless integrations with virtually all ecommerce platforms. Much of this is driven by the fact that PayPal is a widely popular payment choice of online shoppers.
Studies show that accepting PayPal increases online sales by as much as 44% compared to credit cards alone. Add to that PayPal's secure integration with virtually every ecommerce platform on the market, and PayPal is an excellent payment processing choice for online sellers. However, if you're solely an online seller, you may want to consider some PayPal alternatives.
Square's big downfall in the online payments matchup is that it doesn't accept PayPal payments. However, Square is no online sales slacker as it works with many ecommerce platforms too. You can even start selling for free with the Square online store included in your account, something PayPal doesn't offer.
PayPal vs Square: Online Sales Features & Payment Processing Fees
$0 for Express Checkout
$30/month for PayPal Pro custom checkout integrations and virtual terminal feature
2.9% + 30 cents per transaction
Standard: 2.9% + 30 cents per sale
Nonprofit: 2.2% + 30 cents per sale
3.5% + 15 cents per sale
3.5% + 15 cents per sale
Best
Another online selling plus with Square is its full integration with top ecommerce platforms like BigCommerce and Ecwid. This connects your online store to your Square POS so that you can manage all of your sales, payments, inventory, and customers in Square. This all-in-one store management solution isn't something PayPal's POS software provides.
Square: Best for Automatic Recurring Payments
Square lets you set up recurring payments for free, whereas PayPal charges $40 per month for this service. Square soundly beats PayPal in this matchup for most small businesses that use recurring payments for things like repeat services, class tuition, or club memberships
Both Square and PayPal handle automatic recurring payments for things like subscriptions, monthly services, lesson fees, tuition, and so on. However, PayPal's recurring payments feature is more autopilot than Square and can handle high-volume needs. If you need to manage recurring payments on a volume scale, PayPal's $40 per month fee is worthwhile because PayPal's recurring payments are pretty set-and-forget.
Outside of volume needs, we're calling Square the winner in this matchup. Square's recurring payments feature is free and simpler to use than PayPal, which requires some setup.
To initiate recurring payments using Square, customers save their credit card information to Square's secure vault and approve automatic payments, which is done through an online invoice. Once they do this, each time you generate the repeating invoice, it triggers the automatic payment. Square's recurring payments tutorial in your free Square account shows you exactly how to set this up.
Square vs PayPal: Recurring Payment Features & Payment Processing Fees
Requires the $30/month virtual verminal/Pro account & $10/month recurring payments add-on
Paid via Online Link
3.5% + 15 cents per transaction
2.9% + 30 cents per transaction
3.5% + 15 cents per transaction
Initiate Recurring Payments Online on a Website
Initiate Recurring Payments via an Online Invoice
Initiate Recurring Payments via Virtual Terminal
PCI-compliant Payment Vault
Tie: Best Online Invoicing Features
Square and PayPal both offer online invoicing for free with very similar invoice creation, payment, and tracking features, so we're calling this Square vs PayPal matchup a draw. Both Square and PayPal let you create invoices and email them to your customers. Customers can then click the "Pay" button to pay online conveniently.
If customers choose to pay another way―say via check or cash―you can record those payments to show the invoices as "paid." You're not charged a fee by either service in these instances.
Square vs PayPal: Online Invoicing Features & Payment Processing Fees
$30/month with a virtual terminal
2.9% + 30 cents per transaction
2.9% + 30 cents per transaction
Keyed-in Invoice Payment
3.5% + 15 cents per transaction
3.5% + 15 cents per transaction*
Record a Check or Cash Payment for an Invoice
Accept Invoice Payments over the Phone
✔ *
One place where Square pulls ahead of PayPal for invoicing is in the case of phoned-in payments. If customers call in a credit card payment for an invoice, you must enter this into an online virtual terminal to process the payment. You get a free virtual terminal feature with Square, but PayPal charges $30 per month for their virtual terminal service.
Other than that, Square and PayPal are in a dead heat for online invoicing. Next, we'll look at how Square and PayPal compare when it comes to trying several types of sales outlets under one roof as a multichannel seller.
Square: Best for Multichannel Sales Management
Square is our recommended solution for multichannel sellers because in-store, mobile, and online payments and sales tracking are all part of Square's fully integrated service. Moving into another type of sales―like if a retailer wants to start selling online―you can start doing it with Square. There are no new integrations, accounts, or add-on services needed.
Square and PayPal both accept a full range of payment types, as was covered in detail earlier. This makes both services decidedly multichannel-friendly since both let you combine an array of in-person, online, and mobile sales under one payment processing roof. But of the two, Square delivers the more streamlined, ready-to-grow with your system solution.
Square vs PayPal: Built-in Multichannel Selling Features
Multichannel Features
Customer, Sales & Inventory Management Across All Sales Channels
$40/month for this feature
Customer Loyalty Program
N/A
With PayPal, you must pay for important multichannel payment features, like a virtual terminal or recurring payments. Plus, you must integrate your PayPal account with other systems, like Lightspeed Retail POS―starting at $99 per month―to get advanced in-store selling tools or an ecommerce platform to sell online.
All of this takes time and costs money with PayPal, but not with Square. If you want to start using a free feature, like the free online store, mobile POS, or subscription payments, you simply sign up for a free account. Alternatively, if you want to extend Square's free features with paid add-ons like customer loyalty programs, gift cards, employee payroll, or more, you turn on and pay for what you need, nothing more. Best of all, everything works seamlessly since all of the pieces are integrated into a simple, streamlined system.
Square vs PayPal: Customer Reviews
Both PayPal and Square are widely-used payment processing solutions. Customer reviews for each option highlight what customers like best and what they like least about each provider. Below is an overview of customer feedback for both Square and PayPal.
Square Customer Reviews
Customers like that Square makes it extremely convenient to process credit cards both online and in conventional and unconventional in-person situations. Users also appreciate that Square provides sales breakdown reports that make it easy to understand when sales activity occurs and what items are selling best. In Square customer reviews, users rave about Square's various POS hardware solutions, noting the options are attractive, affordable, and easy to use.
One of the most misunderstood aspects of using a payment aggregator like Square or PayPal is that these providers will occasionally freeze accounts. This is only done when fraud is suspected, or unusual activity happens on the account, such as a dramatic increase in sales from one source. The reason payment processing providers do this is to protect the business, the customer, and the payment gateway.
Frozen accounts, unexpected chargebacks, and closed accounts are among the top reasons you'll see unfavorable reviews for Square and other providers. These complaints are the exception rather than the rule, but customers who face these issues tend to be more vocal in review forums.
Negative reviews for Square mention difficulty getting access to customer service support, which is especially important in urgent situations when a sale is on the line. A small percentage of business customers feel that Square unjustly sides with cardholders too frequently, rather than protecting Square businesses from unsavory customer tactics.
PayPal Customer Reviews
Customers note that one of the best advantages PayPal delivers is trusted name recognition. Businesses realize that their customers feel safe purchasing online through PayPal due to its reputation as a secure online payment solutions provider. Reviews from PayPal customers also frequently mention how easy it is to set up PayPal payments on their websites.
Reviews regarding PayPal's customer service and support are mixed. Some feel PayPal is excellent with conflict resolution while others feel that PayPal favors the purchaser instead of the small businesses paying PayPal for payment processing. Account holds and unexpected closures without sufficient explanation or recourse are also problem issues cited by an extremely small percentage of customers.
Bottom Line
When it comes to online payment processing, PayPal is a solid option, given its competitive fees and large, established user base. For a payment processing solution that meets all your needs, Square is the better choice. Square offers superior POS solutions and hardware. It also offers more affordable automatic recurring payment features. Plus, Square delivers the most integrated multichannel payment solution at the best price.
This content was originally published here.